Back when I was a child, both my parents worked full-time and I was brought up by my Ate (pronounced as "ah-teh"). Ate basically means older sister in Tagalog, the language spoken in Manila, Philippines. Being brought up in her care meant I was exposed to a lot of delicious Filipino snacks since young. My recent trip to the Philippines (where I ate a TON of snacks) has brought back many fond memories of my childhood. Here's some of my favorite Filipino snacks recommended for you to try if you are ever fortunate enough to visit the Philippines!
1. Polvoron (Goldilocks)
Goldilocks is a famous bakeshop in Philippines where you can find Polvoron and other delicious baked goodies and cakes. We first tried the cashew Polvoron at a local 7-11 and fell in love with its soft, crumbly and sweet flavor that paired perfectly with the warm cup of coffee we were having.  We later hunted down a Goldilocks bakeshop and bought a couple of boxes of assorted Polvorons. Each box costs about 150 php and contains 7 different flavors; Original, Ube (purple yam), Cashew, Peanut, Pinipig (Rice crisps), Cookies N' Cream and last but not least my favorite Coffee Crumble. While famous in Philippines, Polvorons originated from the Spanish but were adapted and made famous in Philippines. It is a must-try snack and a perfect gift for your family and friends! 😉
2. Yema
When I was younger, I used to have handmade Yema as a treat for finishing my homework and it has always held a special place in my heart. Yema, the Spanish term for egg yolks, is essentially egg yolks (duh!) and condensed milk wrapped in pretty cellophane paper. It is a sweet snack perfect for a mid-afternoon treat or an after-meal dessert paired with a warm cup of coffee or tea. We found our Yema tower (because its shaped like a tower) at the local 7-11 for 55 php per piece and ended up buying everything to take home with us (that just shows how good it is!)
3. Corn bits (by W.L. Foods)
This snack is my weakness. I used to have corn bits when I was a child but could not find them anymore for more than a decade until my recent trip to Philippines where I found shelves (1 shelf actually) of them in a hundred different flavors (I'm kidding, its about 5 flavors). My fav flavor EVER would be the chili cheese one where you would get that thick layer of cheese seasoning stuck on your fingers at the end waiting to be licked off. Of course, the other flavors (original, chicken, BBQ, garlic) are great as well and its definitely worth trying all of them.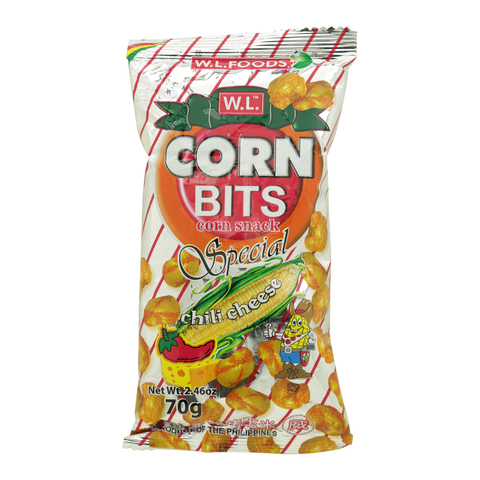 4. Dried Mango
Mangoes are a huge thing in the Philippines and they have never disappointed. The same goes for the famous Filipino dried mango snack that can be found literally EVERYWHERE. Of course there are many different brands out there but my go-to brand for a dried mango fix would definitely be the famous Cebu (I was there btw!) 7D Mangoes. These dried mango snacks are perfect for snacking while you are on the road and the chewy texture helps keep you satisfied when you are feeling peckish 😉
5. Banana Chips
Just like dried mangoes, banana chips are HUGE in the Philippines as well. I personally have no favorite brand for banana chips as they are honestly all really good regardless of the brand. These banana snacks are sweet and crunchy and perfect as a movie snack!
6. Nagaraya Cracker Nuts
BEWARE! These cracker nuts are crazy addictive and you will find yourself reaching for another pack before you know it! This snack comes as peanuts enclosed in a crunchy coating which is basically the "cracker". It comes in a number of flavors such as Original, Garlic, BBQ and Adobo (a Filipino meat dish) but my favorite would be the BBQ flavor 😉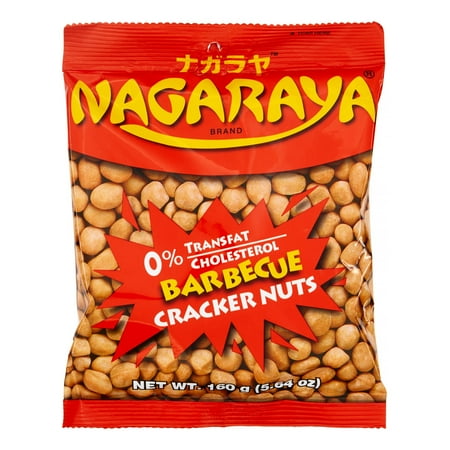 7. Rin-bee Cheese Sticks (Oishi)
The Oishi brand is a Filipino brand based in Manila, Philippines, and is well-known for snacks like Prawn Crackers, Potato Fries, Pillows and Oheya. While it was my first time seeing the Rin-bee Cheese Sticks, we decided to try it and was not disappointed by the quality. The cheese seasoning was generous and well-coated around the sticks. It reminded me a lot of the chili cheese corn bits and I was a bit regretful that we had only bought one packet to try. Do try this when you are in the Philippines and please buy lots of it back for me as well! 😉
Do you know other must-try Philippine snacks? Do leave a comment so we can try it when we are back in the Philippines! 🙂